Case Study: Top 100 Influencers Marketing Cases On TikTok.
TikTok is one of the fastest-growing apps in the world. In 2018 it was downloaded more than Instagram, YouTube, and Snapchat.
TikTok combines together the comedy of Vine (the discontinued 6-second video app) and musically, a famous lip-syncing app that was acquired, in 2017, by ByteDance, the Chinese company that owns TikTok.
TikTok was the number one downloaded app in the Apple app store within the first quarter of 2019 with 33 million downloads. It is important to also note TikTok's popularity amongst teens, with 41% of users aged between 16 and 24. TikTok has successfully understood Gen Z better than any of its competitors.
On average, TikTok users spend 52 minutes on the app each day. Most users are accessing the app daily in order to create and share videos, or to watch the funny and entertaining videos created by others. This is important for brands to know because the more time that users spend on the platform means more opportunity to reach them with the content created around brand awareness. Additionally, 90% of users utilize the app multiple times a day and users are extremely active on the app. 68% of users watch videos of others, while 55% upload their own videos. Lastly, there is an enormous amount of content being viewed each day, with more than 1 billion videos being viewed each day in the last year.
Running an influencer analysis platform that focuses a lot on TikTok, we wanted to present the best TikTok Case Studies to show the huge potential this social media has in terms of marketing purposes.
She gained 2,105,317 followers in one week, the growth rate is 6.13%, more than any other person on TikTok in the past week. Let's take a look at her performance on TikTok

From the figure, we can see that since November 8, 2019, the amount of video she shot has changed significantly, which is why her number of fans can gradually increase. Let's take a look at some of the features of these videos.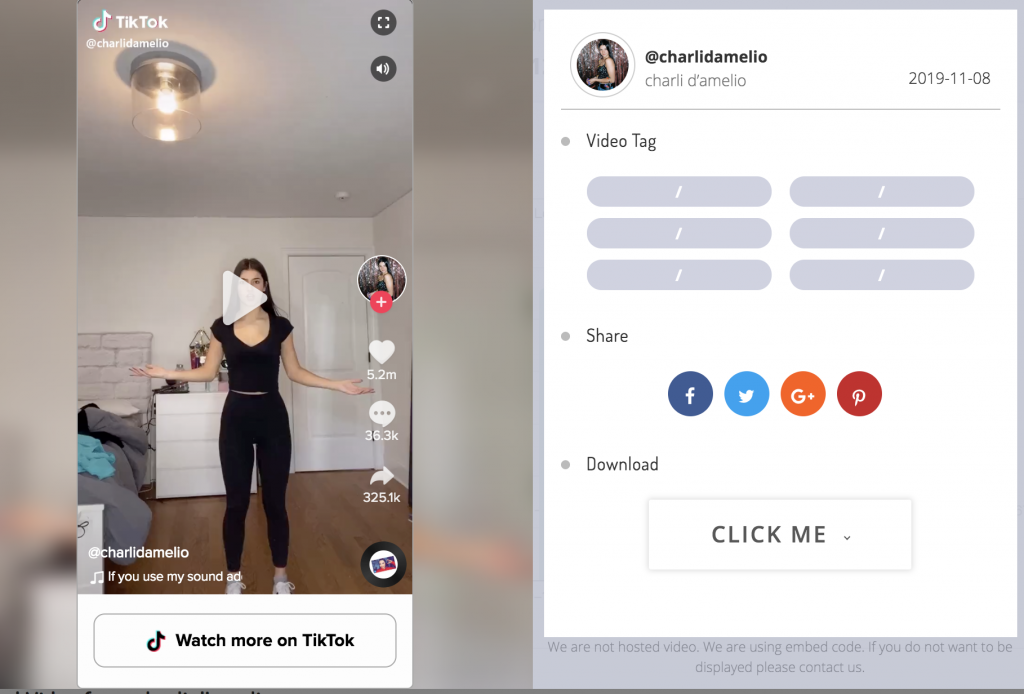 It was one of her best performances, garnering 5.2 million likes, more than 30 million comments and nearly 30 million shares. There is no doubt that this video is very successful. You can also visit this video here.
Jacob sartorius has an amazing engagement rate of 64.51%, the only one on TikTok with an engagement rate of more than 60%. The engagement rate means that the videos he sends out are highly interactive and can attract people like and comments. It also means that he has higher business value in the case of the same fans.
Higher business value means higher potential revenue. We can see that Jacob sartorius' potential revenue is $5,506 per video. This is a very attractive income, if you want to do the same, watch his video, and everyone about his video interaction.
JasonCoffe posted the most videos on TikTok. He joined TikTok on March 26, 2016. It's been 1,800 days since he joined TikTok. More video means more opportunities to be watched. Viewing also has a direct impact on commercial value.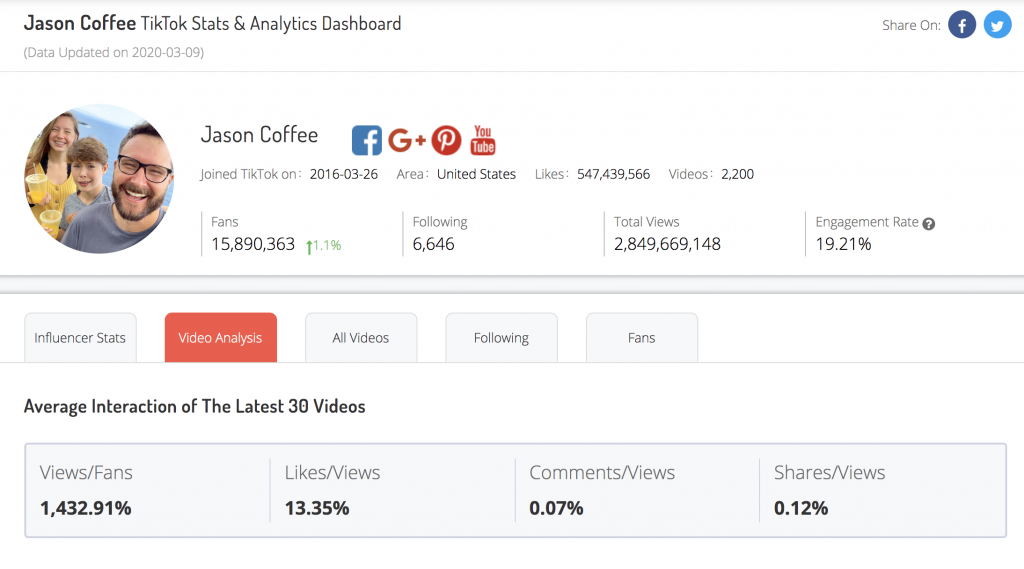 Do you know who gets the most views on tiktok? Is mr_faisu_07.
He got 12.122B views. He is the only influencer on tiktok with more than 10B views. Mr_faisu_07 is from India and has sent 1,950 videos since joining tiktok in March 2018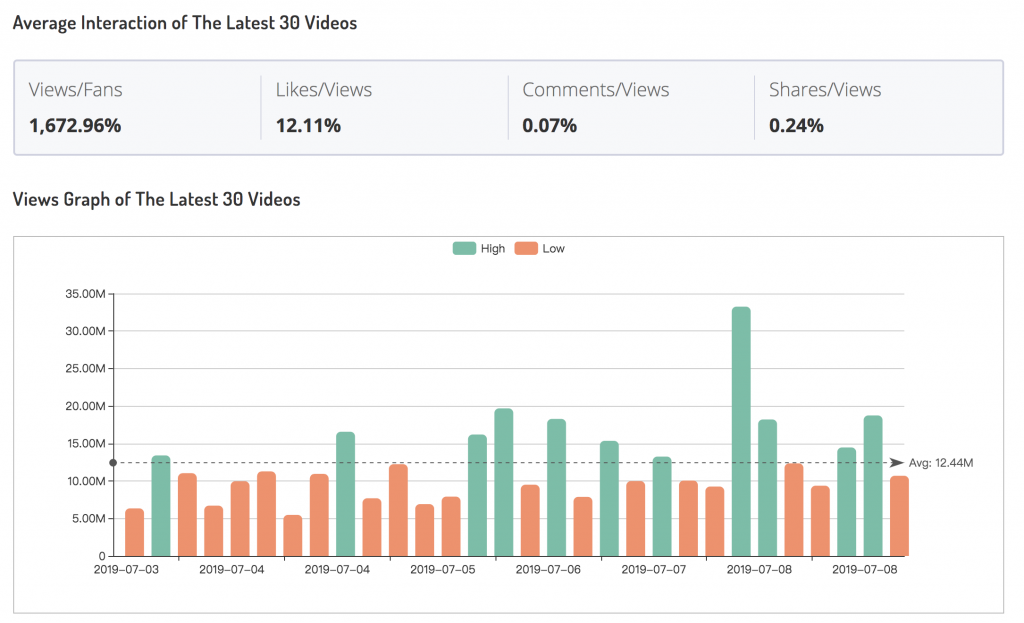 His videos, views/fans up to 1672.96%, means that his videos get a lot of opportunities to recommend and spread, fans will like to share his videos, the platform will also through the recommendation mechanism, the video will be pushed to more people.
Loren Gray has 40 million TikTok followers — more than any other account on the app — and she's only 17. But, in her words, she's been doing this a long time. Since middle school, in fact, when she got her start on Musical.ly. And as a result, her fame certainly isn't isolated to just her TikTok throne.
The social media star turned card-carrying Gen Z icon has followings in the millions across YouTube and Instagram, a burgeoning singing career, and a loyal fanbase called the "Angel Squad." She's also fresh off a cameo in Taylor Swift's "The Man" music video, as well as a Betsey Johnson prom collection collab. Ahead, we spoke to the almost-18-year-old as part of her partnership with Betsey Johnson about her rise to fame on TikTok, how her approach to keeping up with the app's trends has evolved over time, and her favorite TikTokers to watch.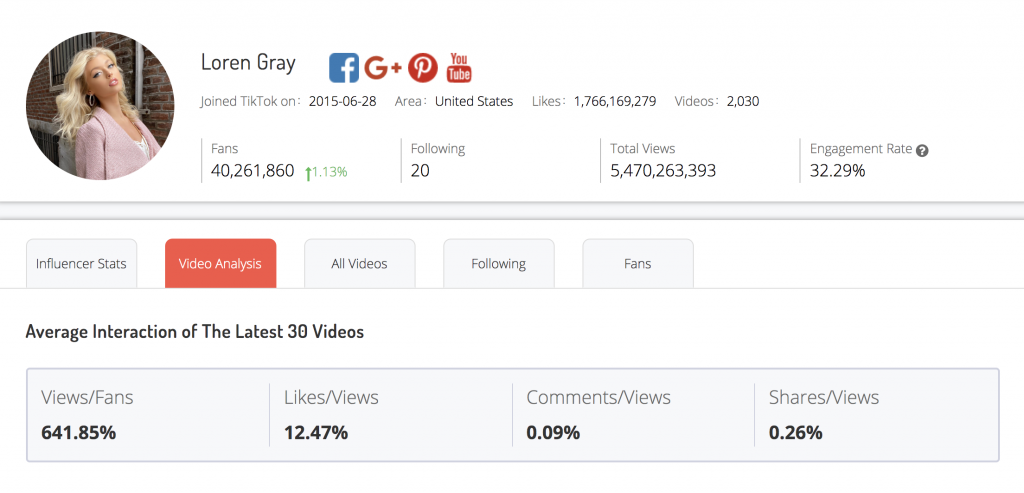 TikTok has established itself as a perfect platform to allow videos to go viral, reaching millions of online users. The platform also has great potential for growth. In the future, it may be as influential as Facebook or Youtube. If you want to learn more about TikTok's analysis and potential business opportunities, welcome to TikRank