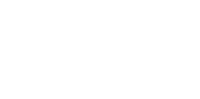 Tikrank - Save TikTok without watermark
Tikrank is a lightweight tool to help people to save Tiktok videos without watermark.
The URL is incorrect,please try again.
Paste
Save without watermark
Save video audio
The audio resource is loading, please wait for a while.
Affected by the network status, the download resource may not be
fully loaded. If you encounter this situation, please click

refresh
Features of Tikrank
What can we do is not just save tiktok original videos.
without watermark
You can use Tikrank to save TikTok original videos, audios, even videos without watermark.
Support bulk download
Tikrank supports bulk downloading and can save multiple TikTok videos without watermark at a time.
Help selecting videos
Tiktok ranking is a part of Tikrank, which contains influencers data from 15 countries and regions. You can use it to save Tiktok videos.
just need browser
Tikrank is a lightweight tool that enables save tiktok only through the browser. We also provide browser extensions to enhance your experience.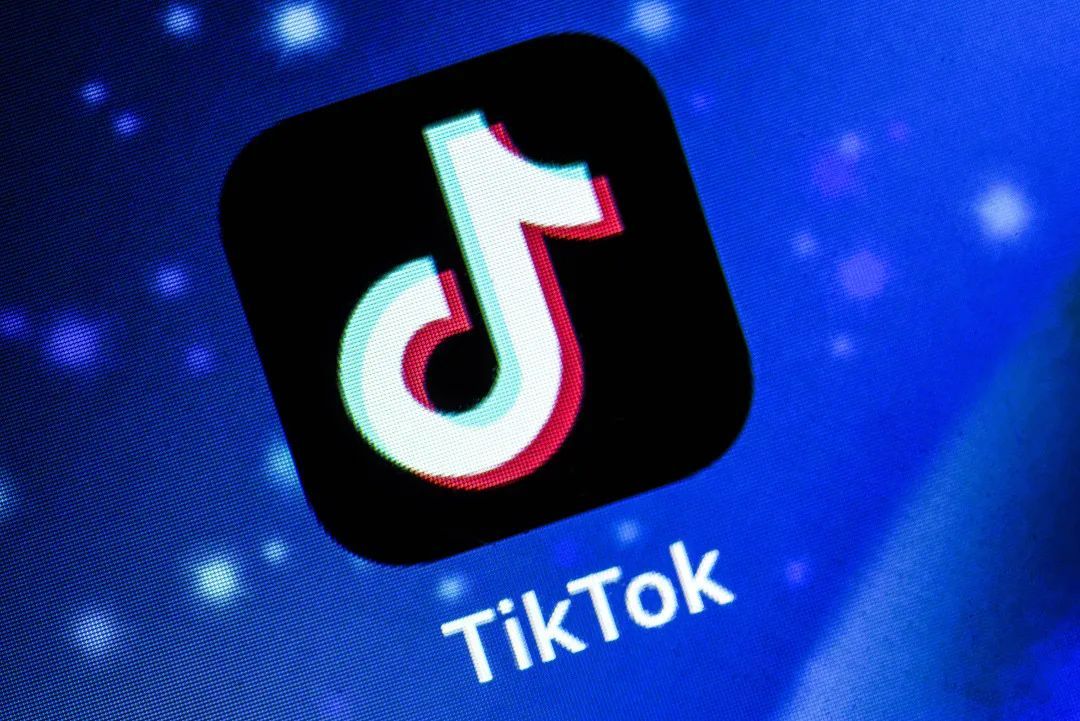 How to save video from TikTok app with mobile?
---
So easy to save TikTok from with Tikrank by mobile.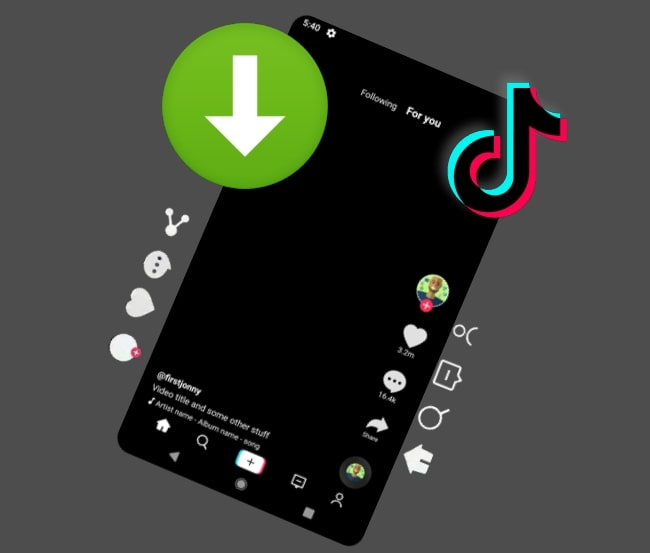 Choose a video you want to save

Open the tiktok app and pick your favorite videos.

Get video URL

Click the share button in the lower right corner when the video is playing, and click the copy link.

Go to Tikrank website

Use your mobile browser to enter the Tikrank website.

Paste the URL to Tikrank

Paste the video URL into the input field, and click download button.

Download what you need

After clicking the download button, the download service of original video, video and audio without watermark will appear. You can download what you need.
How to save TikTok videos by Tikrank extension?
Master a powerful Tiktok video downloader extension to help you save Tiktok videos more conveniently.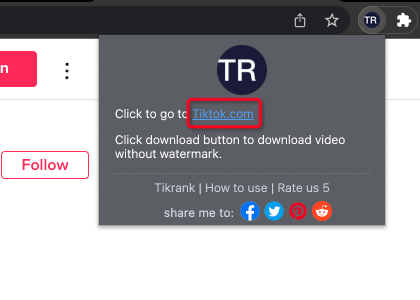 01
Go to tiktok.com
After completing the Tikrank extension installation, you need to jump to tiktok.com. You can jump through the address bar or click "Go to tiktok.com" in the extension pop-up to reach the tiktok site.
02
Select a video you need to save and download
After reaching the tiktok site, you should first confirm that the download button is successfully embedded. After confirming, you can browse TikTok to select the video you want to download, and click the embedded blue button to start the download.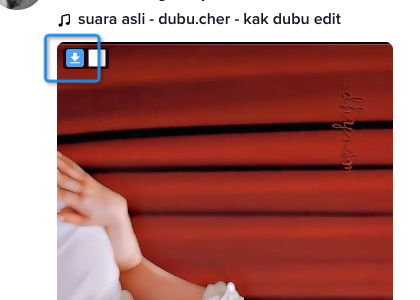 How to bulk download TikTok videos by Tikrank extension?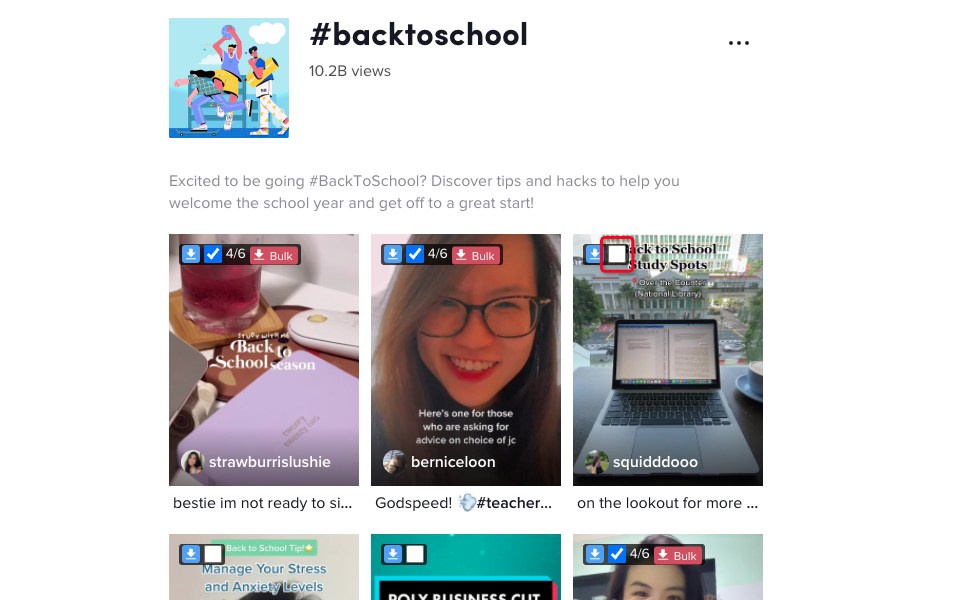 01
Tick the videos you want to download
Pick a video from tiktok.com and tick the video you want by clicking the checkbox. Tikrank provides bulk download of up to 6 videos at a time.
02
Confirm download content
When the video is checked, you can confirm the download of the videos in two ways to enter the download page. The first way is to click the bulk download button embedded in the page, and the other is to click the bulk download button of the Tikrank extension pop-up window.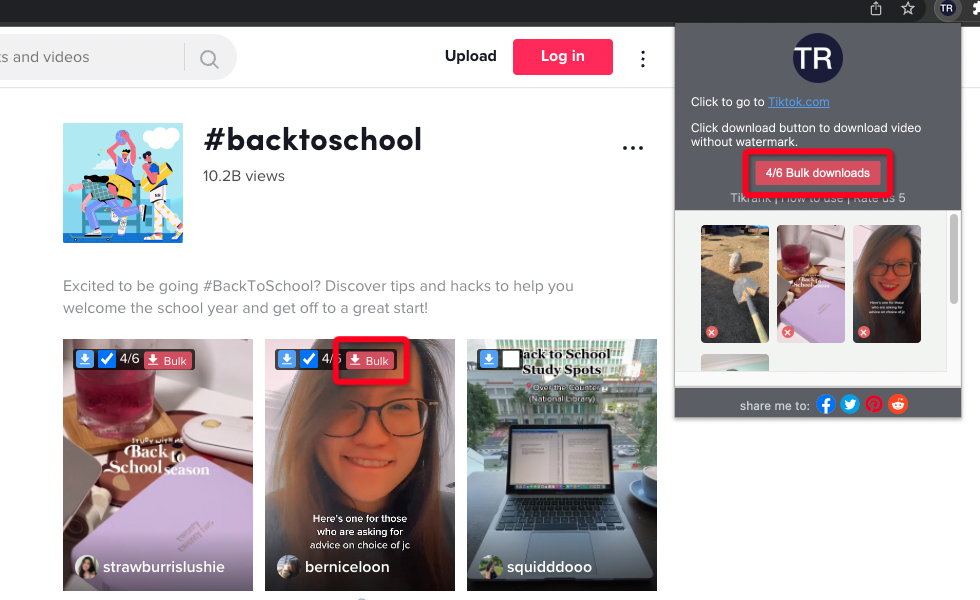 03
Choose what to download
Once on the download page, you will see three download options: save without watermark, save original video, save video audio. Select the option you need to start the download.
Frequently Asked Questions
---
Got a question? We've got answers. If you have some other questions, see our support center.